FULL PRINT VS FRONT PRINT
People often ask what's the difference or advantage between front printed and full printed table covers. One substantial difference is cost. However, design is another factor to be considered. A front printed table cover is more economical. A smaller separate section is printed on white material with your logo image along with a background color to match the fabric color chosen. This printed panel is then sewn on to the rest of the tablecloth. If cost is not a determining factor, then your overall trade show booth design and branding will help you make your decision. Let's look at an example. The company Infuze (see picture below) has its branding up high and in other places. It chose a fully printed table cover to enhance the rest of its booth design. For the same reason, the Pepsi company chose a front printed table cover. The deciding factor in both cases was the overall design of their trade show booths.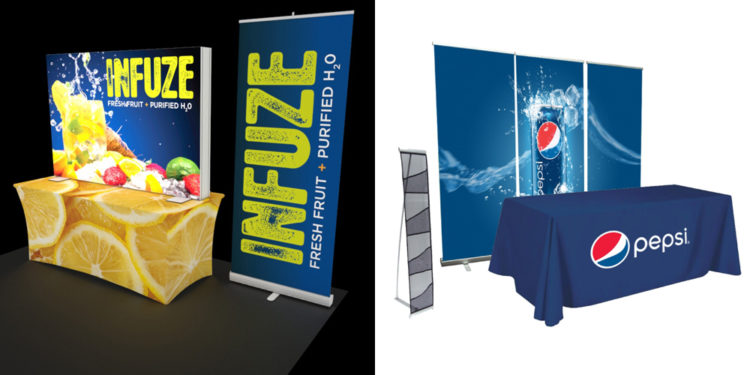 FRONT PRINTED TABLE COVERS
Advantages
Less expensive than full printed covers
Images or logos can be photorealistic CMYK full color
Limitations
Limited stock tablecloth background colors to match the front panel background color
A slight variance in the fabric color on the front panel might occur since these tablecloths are constructed using stock material
FULL PRINTED TABLE COVERS
Advantages
Consumers can see your branding from all angles, not just the front Images and logos can be photorealistic CMYK full color
No variations in color between front panel and the rest of the tablecloth
Not limited to stock color backgrounds
Limitations
Cost
TIPS FOR CHOOSING THE RIGHT SIZE
You need a table cover that properly fits your table. Using the right size cover is critical in order to display your message in the best possible way, and not have your cover look to big by dragging on the floor, or to small, that looks irregular or shrunk. Here is what you need to know.
First make sure you look through your trade show event materials and specifications to see if there are options for table sizes. Many times there are options, however smaller trade shows like chamber of commerce events may only have one option. It often makes sense to have more than one size table cover on hand.
Here are the most common sized tables:
6 ft and 8 ft length tables with a 30 inch wide top and stand 30″ tall.
4 ft length table with a 2 ft wide top. (some tables have adjustable heights 29″, 36″ & 42″).
If you don't know the exact size, table throws offer greater flexibility.
In conclusion when it comes to trade show table covers the options seem endless, but if you understand some of those options, selecting your table cover becomes a whole lot easier. By determining your needs first, you will be able to make the best choice. By focusing on your trade show goals and objectives you will be able to create an alluring trade show booth, at a cost effective price! Hopefully we have given you some useful information for your next table cover purchase.
If you need additional information please contact us. With many years of experience KatArt can help you choose the table cover that suits your needs for your target audience. We are experts at selecting the correct table cover based on your budget and needs.
Article written by Michael Gugliotto